Welcome
Integrity Absorbent Products is a long-standing Canadian manufacturer of absorbents products based in Sarnia, Ontario, Canada. Our products are delivered in a variety of practical configurations; they are economical, cost effective, high performing, dependable and efficient.
Most of our customers, including emergency responders, use our products in their daily maintenance programs inside their shops and in the field. In addition to our absorbents control products, we have an outstanding line of:
Secondary Containment Products
Neutralizers for acids and caustics
QuikSteel (Epoxy Putty) for plugging leaks/drips
Catch Basin Inserts
Drain Protectors
Gloves
Safety Goggles
Other miscellaneous safety and Person Protective Equipment (PPE) items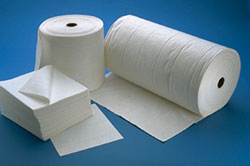 Our products are extremely effective when used as a preventative measure prior to opening or transporting a piece of equipment and/or to contain and control over-spray and settling mists. They will also prevent spilled material from spreading and easier clean up of spilled material. These preventative measures will:
reduce potential for employee injury
reduce potential for environmental incident
improve housekeeping
Service and quality is our prime objective and our prices are very competitive � give us a call if we can be of assistance.